An Original Holiday
Ballet
The Greatest Gift Updated Performance Times…
Sunday, December 4th at 4pm
We take a glimpse at the Lewis family living in America in 1902. The Lewis's have two daughters, Ella and Rosa, and one son, Isaac. Our story begins on Christmas Eve when Ella is 12, Rosa is 10, and Isaac, a baby. Ella and Rosa go to the schoolyard to exchange gifts with some of their friends, including their best friend Marie.  On the way home, Ella, Rosa, and Marie stop to play in the snow. A snowstorm takes them by surprise. While Ella and Marie are distracted by the storm, mischievous Rosa wanders over to the frozen pond and falls through the ice.
Coming to the rescue, Ella saves her sister from the freezing water. While saving her sister's life, Ella is overtaken by the water and soon dies in her daring, sacrificial rescue. Rosa is overwhelmed with guilt and sadness when her savior and sister, Ella, passes away. The first act ends with Rosa distraught and overtaken by her sadness in the knowledge that her sister, Ella, died from saving her life. Rosa's deep sadness turns into bitterness and anger.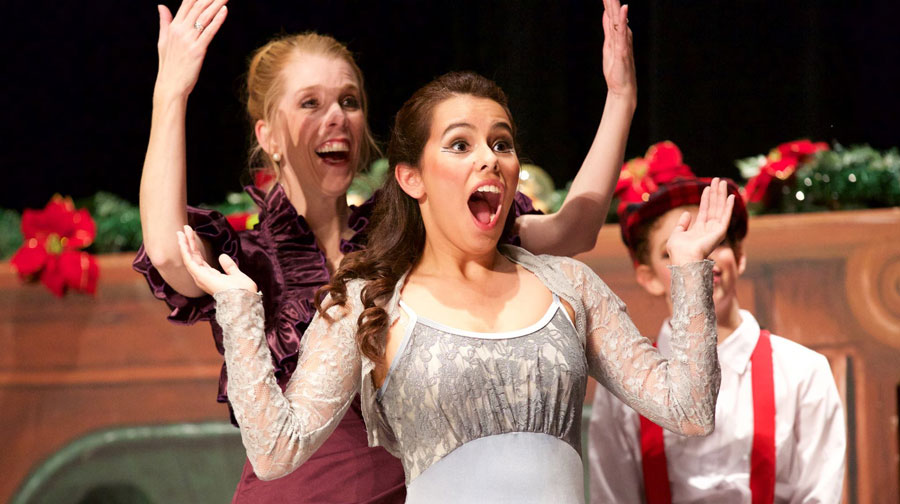 Intermission
We find the Lewis family preparing for a Christmas party 7 years after Ella's death.  Rosa's hardened heart is evident through her bitter, selfish actions. At the party, Rosa is rude and mean to the guests, particularly to her childhood friend, Marie, and her younger brother, Isaac. Rosa flees the party and runs into the woods, after her father presents her with a gift that reminds her of her sister, Ella. Rosa laments over the person she has become, so full of bitterness and anger.
She falls asleep and, in a dream, her sister Ella appears. Ella is full of joy and explains to Rosa that she was grateful to have been able to sacrifice herself to allow her sister to live. Ella encourages Rosa to rid herself of her angry feelings of guilt and to embrace freedom in life. Ella inspires Rosa to go and now lay herself down for her friends and family. Rosa awakes and rushes back to the party. There she is quick to reconcile with Marie, Isaac, and her parents. Rosa is a changed person! All rejoice in a grand finale.
Featured Artist: Christa Beachman, A.R.A.D.
Ballet du Coeur Main Company:
Amanda Dudley – Young Marie, Older Marie

Katarina Graziosi – Young Ella, Party Entertainer, Dream Flashback, Dream Ella

Meredith Hite – Winter Dancer, Party Guest, Dream Flashback

Alessandra Murray – School Girl Soloist, Young Party Entertainer

Grace Rebresh – Angel Soloist, Winter Soloist, Party Girl Soloist

Hannah Scott – Angel (Act 1), Winter Dancer, Party Guest

Graisa White – Angel (Act 1 & 2), Water Dancer, Party Guest

Makenzie Yarnold – Younger Rosa, Older Rosa
Guest Artists:
Piper Batterbee – Younger School Girl, Party Attendee

Kennedi Brown – Younger School Girl, Party Attendee

Calista Batterton – Older School Girls, Young Entertainers

Calyn Cope – Younger School Girl, Party Attendee

Emma Dahn – Younger School Girl, Party Attendee

Lauren Daugherty – Older School Girl, Young Party Guest

Madison DenHartog – Younger School Girl, Party Attendee

Bailey Dippel – Older School Girl, Young Party Guest

Elly Gamero – Younger School Girl, Party Attendee

Madison Hall – Older School Girl, Young Party Guest

Nicole Harrington – Angel (Act 1 & 2), Water Dancer, Party Guest

Madison Kenney – Older School Girl, Party Attendee

Audrey Lopez – Younger School Girl, Party Attendee

Julia Mast – Angel Act 1 , Winter Soloist, Party Entertainer, Dream Lead

Vanessa Marcuccio – Water Dancer, Party Entertainers, Dream Lead

Caroline Rabalais – Older School Girl, Young Party Entertainer

Isabella  Ryskoski – Older School Girl, Party Attendee

Jessica Smith – Young School Girl, Party Attendee

Gianna Soliz – Angel (Act 1 & 2), Winter Dancer, Party Entertainer

Bailey Stanfield – Winter Dancer, Isaac

Brooke Thompson – Older School Girl, Party Attendee

Lauren Thompson – Younger School Girl, Party Attendee

Mayah Whitmire – Older School Girl, Party Attendee

Sadie Wilber – Winter Dancer, Party Guest, Angel (Act 2)

Katie Wisnoski – Younger School Girl, Party Attendee

Madison Wood/Stryk – Young School Girl, Party Attendee

Cassidy Woodcock – Water Dancer, Party Guest